Above-Ground Pools
In-Ground Pools
Portable/Inflatable Pools
Finance Pools
Spas & Accessories
Saunas
Chemicals
Chem Alternatives
Pumps & Filters
Heaters & Solar
Pool Covers
Pool Liners & Accessories
Lights, Showers, Fountains
Steps, Ladders, Decks & Fencing
Slides & Diving Boards
Pool Toys & Floats
Pool Safety
Pool Side Umbrellas, Furniture & Decor
Family Rec Room Games
Clearance
New Products
Blog
Security & Privacy
SR Smith Flyte Deck II Stand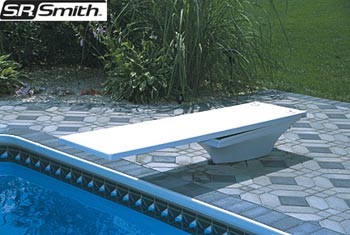 This high quality diving stand features tough color fast material that will hold up in all types of weather. The Flyte Deck II stand comes with a concrete jig that is easily installed when paving your deck. Stand meets all NSPI standards. Available in white. Comes with stainless steel mounting hardware and mounting jig. 3-Year Warranty.Stand only board sold separately.
Works with the following S.R. Smith Diving Boards:
FIBRE-DIVE DIVING BOARDS
FRONTIER III DIVING BOARDS
Order Chart
Get it here!
You may also be interested in these related items