Badu EcoM3 Above Ground Pool Replacement Pump with Remote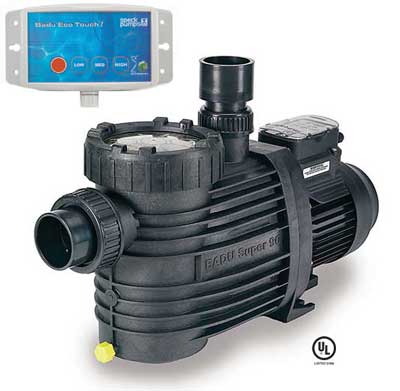 This high tech pool filter pump by Speck Pumps automatically reduces power to save energy!
The Badu® EcoM3 swimming pool pump greatly reduces operating costs on pools from 10,000 to 25,000 gallons. The pump offers three speeds: high, medium and low. Now you can use the most cost efficient speed for the job at hand.
Energy usage is greatly reduced by this pump's ability to clean an entire pool on low speed at a maximum power consumption of only 160 Watts per hour. At high speed, the maximum power consumption is only 1200 Watts per hour. High speed pumps can turn over your water faster, but at a tremendous energy cost due to added friction in the system. At lower speeds, pumps push less water through the system, creating less restriction and more efficiency.
Use the Medium and High Speed Functions when you need a boost to the system. The high speed setting provides the power needed for backwashing and running automatic cleaners. The medium speed setting is sufficient to give the extra boost needed for suction cleaners that work through your skimmer and for circulating water faster during heavy bather loads.
After 2 hours at high or medium speed, the Badu® EcoM3 automatically defaults to the lowest speed, saving energy and money. You don't have to worry about forgetting to change the speed back after boosting the power.
Unique mechanical shaft seal allows the pump to run dry for up to one hour without damage.
Badu® EcoM3 is compatible with all salt water pools. All pump parts are 100% recyclable resin that will not corrode and can withstand temperatures up to 175° F.
3 speeds: Low, Medium and High ranging from 1600 to 3450 RPM. After two hours the pump defaults to low speed or 1600 RPM.
Pump automatically starts on high speed for 2 minutes to allow pump to prime.
Specially constructed clear lid with ring lock design is easy to open. Large strainer basket is easy to clean and always locked in place.
Pump comes standard with 2" suction and 1-1/2" and 2" discharge unions to retrofit most existing equipment.
2 year Warranty on all pump parts and built in micro-chip controller. 1 year warranty on remote control unit.
Free Remote Control with purchase! Whether you want to control your pump from the comfort of your home or access to your pump is restricted, this controller allows you to change pump speeds with the touch of a button. 10 ft cord provided, but longer cords can be retrofitted to the unit (must be purchase separately at local hardware store). The controller can be located up to 500 ft from the pump.
Save a bundle on electricity this season with the advanced Badu® EcoM3 high efficiency variable speed pump. May qualify for state and local energy saving tax credits in some areas. 220 Volts AC. Available in 1 hp only. Ships UPS.
Documentation and Support
See these links for more information about this product
Order Chart
Get it here!