Clean less. Swim more!
For a limited time, purchase a qualifying pool kit and get a FREE Trident DirtBlaster cleaner... a $229 value! The Trident DirtBlaster removes dirt, debris, bugs, twigs, leaves and even pebbles! Requires no extra plumbing and incurs no additional energy costs.

Hurry! Limited time offer. Some restrictions apply. Not available with finance purchases. See details.
Bermuda 54 in. Aluminum Above Ground Pool
Price: $ 3610.58 - $ 8760.10 + Free Shipping!
Save Up to 4% off with Instant Check!
The SubSports Bermuda pool is made from aluminum so it will never rust or corrode like steel. After extrusion, all components are powder coated with a beautiful enamel that adds a high-gloss luster finish and further protects the metal from corrosion. From the bottom rails to the rugged top seat, the Bermuda pool is impervious to rust and corrosion. Heavy-gauge aluminum parts and interlocking walls make the Bermuda over 50% stronger than conventional steel above ground pools. All that strength means maximum flexibility. The Bermuda pool can be installed aboveground, semi-inground or completely inground! Every part of the Bermuda swimming pool is proudly made in the United States to ensure the highest quality materials and manufacturing standards.
The wall is manufactured using color-coordinated aluminum so it's pleasing to the eye. Most pool walls are made of a flexible steel sheet, which requires the pool to be filled to give it strength. However, the Bermuda's wall panels and uprights are constructed of 4 inch wide, interlocking, extruded aluminum sections. The walls are self-supporting, so whether you put the Bermuda aboveground, semi-inground or inground, you never have to worry about the walls collapsing. The frame consists of a rugged 8 inch ledge and 6.25 inch upright posts for optimum durability and strength. Electrostatically applied, baked polyester and a high-gloss finish make for a long lasting barrier against weather, UV rays, pool chemicals and everyday use. Double rolled top and bottom tracks provide a rigid perimeter for the pool with no weak or sharp edges. Both the top and bottom rails are connected using 5/8 inch stainless steel bolts and 1/4 inch aluminum joiners.
Bermuda oval pools have no unsightly side braces to trip over or landscape around. The walls are entirely self supporting due to the strength of the material and design, leaving more room in smaller yards and more walking space on the outside of the pool.
Specifications
Wall: 54 inch Aluminum
Warranty: Lifetime
Top Rail: 8 inch Aluminum
Posts: 6.25 inch Aluminum
Coating: Aluminum
Sizes: Round and Oval
Oval Supports: Non-Buttress
Approved for use with salt water
Made in: USA
Complete Pool Kits
Everything you need to get swimming!
Choose from four convenient pool packages. A and B kits are perfect for replacing an existing pool. C and D kits are tailored to first time pool buyers and offer a pump/filter system, ladder, maintenance equipment and even a starter chemical kit.
A

B

C

D

Beautiful liner
Learn more

Skimmer kit
Learn more

Pump & filter system
Learn more

Free Trident cleaner.
Learn more

Choose A-frame or Deck ladder
A-frame ladder details
Deck ladder details

Solar cover
Learn more

Maintenance kit
Learn more

Winter cover
Learn more

Chemical startup kit
Learn more
Salt Approved
This pool is saltwater friendly!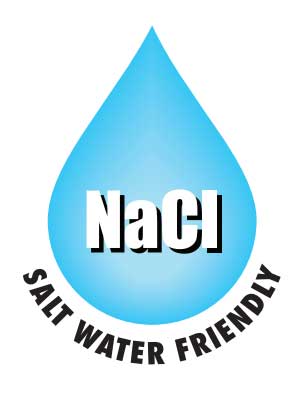 If you want to avoid using harsh chemicals like chlorine to keep your pool clean, think saltwater! Most above ground pools are not compatible with saltwater because it can cause corrosion to the pool wall and frame. In fact, several manufacturers specifically exclude salt damage from their warranties for this reason.
However, this pool is entirely salt approved! That's because the materials and coatings on this particular above ground pool are so durable they can easily resist the corrosive effects of salt water, and the manufacturer has updated their policy to allow salt water to be used in this pool without voiding the warranty.
Sizes and Dimensions
Use this handy reference to find the perfect size for your yard!
Item
Size
Shape
Depth
Gallons
Sq.Ft.
Starting At
BERM18
18'
round
54
7646
255
$3610.58
BERM24
24'
round
54
13594
453
$4319.73
BERM28
28'
round
54
18502
617
$5385.15
BERM1224
12'x24'
oval
54
6797
226
$5735.83
BERM1530
15'x30'
oval
54
10620
353
$6171.37
BERM1833
18'x33'
oval
54
14018
467
$6830.29
BERM1840
18'x40'
oval
54
16992
565
$7766.15

*Note: Dimensions are approximate. See installation guide or dig sheet in Documentation for specific measurements.

Depth is wall height. Gallons are calculated at recommended fill level of 6 inches below wall height.

See order chart for current prices and to configure your pool.
Liner
Customize your pool with liner of your choice
Choose from two free liner patterns! Your brand new swimming pool includes a heavy-duty, unibead, vinyl liner manufactured for years of weather endurance. Or, for a minor cost, you can choose from a variety of additional vibrant patterns and rugged liners for your Bermuda pool. Learn more about these high quality liners.
These premium liners are made using the unique Lamiclear™ process for maximum protection from swimming pool chemicals and the sun's damaging UV rays. Constructed of full 20 and 25 gauge virgin vinyl, our liners last longer and maintain their beautiful appearance for years, and the strong, double-welded seams are built to withstand winter's worst.
Get a Free Cleaner!
Save time with one of the best automatic pool cleaners for FREE!
The free Trident, valued at $229.99, will thoroughly clean your pool removing dirt, debris, bugs, twigs, leaves and even pebbles. Better than others, and with a 30 Month Warranty, the Trident will dependably clean flat bottom or dished pools! This cleaner requires no extra plumbing and incurs no additional energy costs while saving your family time and effort! Learn more.
Buy by April 1, 2017 & receive free shipping, liner & the great gifts!
When you buy a Swimming Pool Kit from us...
FREE

shipping

FREE

Liner
75-day money back guarantee

FREE shipping for all add-on pool accessories

that you add to your pool kit order

FREE

Freight Insurance
Great kit selections from a pool & liner kit to a deluxe pool package

20, 25, 30, 35, 40, 45, 60 years warranty

depending on the pool model

Technicians on staff

to help with every step
Rock bottom

wholesale prices

from a 27 year old established trusted business
No sales tax unless you live in Minnesota and South Dakota
Excellent customer service
6 month price match guarantee

$20.00 Gift Certificate FREE for the asking
Assembly & Installation
Clear and Simple Instructions
The Bermuda™ pool is in a class of its own becuase it can be installed above ground, or partially or completely in ground!
Simply decide which option is best for you, and follow the clear and simple directions to prepare the ground and assemble the pool. The step-by-step instructions are made for the novice, and an installation video is included to walk you through the process. These pools are designed to assemble quickly and easily and can be installed by the average homeowner. In the event you have questions or need additional assitance, we provide a tech support hotline exclusively for our customers.
Both the skimmer and the regular return outlets are pre-punched on the wall so there's no cutting or drilling required. Assembly is easy and installation is simple for any do-it-yourselfer! The pool parts are designed to be non-confusing to make setting up your pool a great weekend project for the whole family.
Because your pool is from FamilyPoolFun, by following the easy installation instructions, you can achieve a professional installation in one weekend. Plan on preparing the base one day and assembling the pool the next. The result will be a beautiful pool!
Warranty and Service
Nobody beats our service!
We're so confident in the Bermuda™ that it's backed by a Lifetime Warranty and the warranty applies whether you install the pool above ground or inground. Plus, we back every pool we sell with a 6 month price match guarantee and a 75 Day no-hassle return policy! You can't get better than that!
At FamilyPoolFun, we make it easy to own a pool. Our friendly sales and technical support staff will guide you through the complete process from pool selection, to installation and maintenance. We're ready to assist your every pool need.
If up to 75 days of owning your swimming pool, you decide you don't want it for any reason, simply call for return authorization and just send it back to us. We'll gladly refund your money - no questions asked. Deductions apply on missing or damaged merchandise/parts. Shipping is not refundable nor reimbursable. Merchandise will not be accepted for return unless authorized. Please call 1-800-250-5502 and ask for returns to get a return number and the return shipping address.
We provide high-quality customer service the right way! In addition, we offer free online and phone water testing to our pool customers and an excellent and simple return policy, so there's no need to make special trips to a pool store.
If you have any questions before you purchase a pool or pool package from us, please contact us. We enjoy making sure we can meet your pool needs.
Order Chart
Choose your upgrade options then click 'Add to Cart' next to the pool you want