Clean less. Swim more!
For a limited time, purchase a qualifying pool kit and get a FREE Trident DirtBlaster cleaner... a $229 value! The Trident DirtBlaster removes dirt, debris, bugs, twigs, leaves and even pebbles! Requires no extra plumbing and incurs no additional energy costs.

Hurry! Limited time offer. Some restrictions apply. Not available with finance purchases. See details.
Matrix 54 in. Resin Above Ground Pool
Price: $ 1796.96 - $ 5724.77 + Free Shipping!
Save Up to 4% off with Instant Check!
Need more time/lower payments? Apply Now
Beautiful and contemporary style combined with high-tech materials and designs to make the Matrix the finest above-ground pool on the market today. Pool Installation has never been easier with the snap-together toprails, bottom rails and uprights. Resin pools like the Matrix are an improvement on the traditional steel wall pool. They incorporate unsurpassed beauty and strength in a corrosion-proof pool structure. In fact, Matrix is so protected against corrosion it is warranted for salt generation systems. The Matrix above ground pool features an extra-wide 8 inch wide injection molded true-round top rail that is far superior to cheaper extruded rails. The true-round shape gives the pool a graceful look and eliminates the "stop sign" appearance of traditional straight-edge toprails. And a patented hinged design allows the top rail to lift up for easy liner removal or adjustment. With Matrix you'll never have to go through the hassle of removing your top rail to replace the liner.
The matrix features a strong 54 inch tall steel wall with a subtle swirl pattern throughout and coated using patented Star Galfin galvanization technology. This 7 layer coating process includes zinc and aluminum undercoats topped by a super durable scratch, impact and corrosion resistant baked-on finish to completely seal the wall from pool chemicals. Covered by a 60 year warranty. The Matrix pool comes in several sizes in both round and oval shapes. Available in kits that include customizable liner, ladder, pump and filter, pool covers, maintenance supplies and more!
Specifications
Wall: 54 inch Steel
Warranty: 60 Years
Top Rail: 8 inch Resin
Posts: 8 inch Resin
Coating: Corrosion Resistant Resin
Sizes: Round and Oval
Oval Supports: Non-Buttress
Made in: USA
Several sizes
Available in kits with liner, ladder, pump and filter and more.
Complete Pool Kits
Everything you need to get swimming!
Choose from four convenient pool packages. A and B kits are perfect for replacing an existing pool. C and D kits are tailored to first time pool buyers and offer a pump/filter system, ladder, maintenance equipment and even a starter chemical kit.
A

B

C

D

Beautiful liner
Learn more

Skimmer kit
Learn more

Pump & filter system
Learn more

Free Trident cleaner.
Learn more

Choose A-frame or Deck ladder
A-frame ladder details
Deck ladder details

Solar cover
Learn more

Maintenance kit
Learn more

Winter cover
Learn more

Chemical startup kit
Learn more
Salt Approved
This pool is saltwater friendly!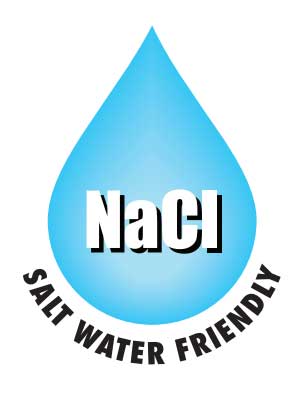 If you want to avoid using harsh chemicals like chlorine to keep your pool clean, think saltwater! Most above ground pools are not compatible with saltwater because it can cause corrosion to the pool wall and frame. In fact, several manufacturers specifically exclude salt damage from their warranties for this reason.
However, this pool is entirely salt approved! That's because the materials and coatings on this particular above ground pool are so durable they can easily resist the corrosive effects of salt water, and the manufacturer has updated their policy to allow salt water to be used in this pool without voiding the warranty.
Sizes and Dimensions
Use this handy reference to find the perfect size for your yard!
Item
Size
Shape
Depth
Gallons
Sq.Ft.
Starting At
MAT15
15'
round
54
5310
177
$1796.96
MAT18
18'
round
54
7646
255
$1988.82
MAT20
20'
round
54
9440
315
$2151.38
MAT24
24'
round
54
13594
453
$2433.18
MAT28
28'
round
54
18502
617
$2935.00
MAT33
33'
round
54
25700
857
$3447.65
MAT1526
15'x26'
oval
54
9204
306
$3355.79
MAT1530
15'x30'
oval
54
10620
353
$3870.34
MAT1833
18'x33'
oval
54
14018
467
$4215.00
MAT1840
18'x40'
oval
54
16992
565
$4760.17

*Note: Dimensions are approximate. See installation guide or dig sheet in Documentation for specific measurements.

Depth is wall height. Gallons are calculated at recommended fill level of 6 inches below wall height.

See order chart for current prices and to configure your pool.
Financing
Pool financing has never been easier!
Get up to 6 months to pay using PayPal Credit or up to 12 months with Affirm Financing, plus instant approval.
Simply choose PayPal or Affirm at checkout.
Need more options? Let us do the work for you!
Finding the right lender for any loan can be a tiresome job, but we do the work for you! Using our network of pool financing companies, we can quickly determine your best options based on credit rating, income and loan amount. Just complete our simple, no obligation form and we'll find the best deal for you! Now you can put an above ground pool in your own backyard for little or no money down and low monthly payments!
No down payment. No application fee. No prepayment penalties.
Apply Now!
Liners
Choose from our huge selection!
Free liner! The Matrix pool comes standard with a heavy-duty Solid Blue 20 gauge overlap liner made of the highest quality vinyl using double-welded, heat sealed seams for years of worry-free use.
Or, for a small additional cost, you can chose from a wide variety of other vibrant liner patterns and styles including some of the most beautiful border patterns available so you get a truly custom pool.
See order chart to learn more about our high quality liner options.
Assembly & Installation
Ready to swim in one weekend!
Matrix is easy to install. No screws or bolts are used to assemble the top and bottom rails or uprights. They simply snap together making installation by the do-it-yourselfer a breeze! It even comes with a step-by-step DVD.
Plus, our pools come with the easiest assembly instructions you will find, with directions that are clear and simple and step-by-step instructions made for a novice. An installation video is available online to make setup even faster, and you get exclusive access to our technical support hotline staffed by knowledgeable experts that can answer any question. We make setting up your pool easy, fast and enjoyable. Plan on preparing the base one day and assembling the pool the next. It's a great weekend family project!
Warranty and Service
Nobody beats our service!
Backed by a 60 year above ground pool warranty, a 6 month price match guarantee and a 75 Day no-hassle return policy!
Pool ownership is easier than you imagined. FamilyPoolFun will guide you through pool selection, installation and maintenance. We have experienced customer support staff ready to assist your every pool need.
If up to 75 days of owning your swimming pool, you decide you don't want it for any reason, simply call for return authorization and just send it back to us. We'll gladly refund your money - no questions asked. Deductions apply on missing or damaged merchandise/parts. Shipping is not refundable nor reimbursable. Merchandise will not be accepted for return unless authorized. Please call 1-800-250-5502 and ask for returns to get a return number and the return shipping address. To learn more about our simple return policy click here.
FamilyPoolFun makes it so easy to own your own pool. Friendly sales staff to answer any question from pool assembly to water maintenance, no call goes unanswered. Easy, no-hassle return policy and available technical support make FamilyPoolFun your online pool source. Contact us or call 1-800-250-5502 for more information.
Order Chart
Choose your upgrade options then click 'Add to Cart' next to the pool you want