Above-Ground Pools
In-Ground Pools
Portable/Inflatable Pools
Finance Pools
Spas & Accessories
Saunas
Chemicals
Chem Alternatives
Pumps & Filters
Heaters & Solar
Pool Covers
Pool Liners & Accessories
Lights, Showers, Fountains
Steps, Ladders, Decks & Fencing
Slides & Diving Boards
Pool Toys & Floats
Pool Safety
Pool Side Umbrellas, Furniture & Decor
Family Rec Room Games
Clearance
New Products
Blog
Security & Privacy
Blue Wave Blast Out® Shock Treatment
Strongest Startup Shock Available!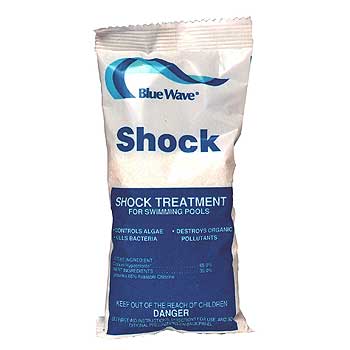 Compare to Sock It™, Burn Out®, Sun Burn®, Super-Chlorinator® and Power Powder®. With 65% available chlorine, this powerful shock offers a quick chlorine boost at an economical price to zap organic pollutants, bacteria and algae. Perfect for spring start-up! Calcium Hypochlorite active ingredient. Must be pre-mixed prior to treatment to avoid bleaching vinyl liners.
Dosage: 1 lb. treats 10,000 gallons.
Documentation and Support
See these links for more information about this product
Order Chart
Get it here!
You may also be interested in these related items