Jet Net R/C Boat Pool Skimmer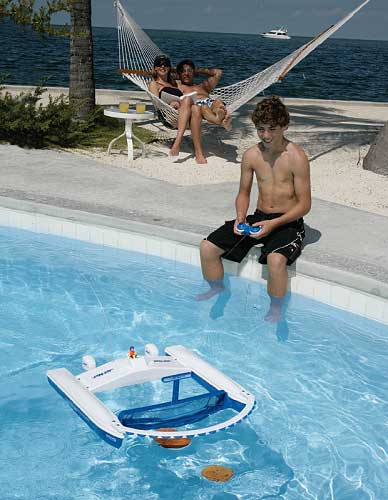 Your kids will love to clean the pool with the Jet Net remote controlled leaf and bag skimmer boat.
This speedy boat tools around your pool and picks up leaves, bugs, seeds and anything else on the surface and captures it in the enclosed net. Simply lift the skimmer net from the boat to clean and reinstall for more cleaning.
Jet Net is battery powered by a heavy duty rechargeable NI-MH battery (battery and charger included). Jet Net operates up to 5 hours before recharging and will operate up to 100 ft from the RC controller. Great for pools or ponds. 1 Year Warranty.
Documentation and Support
See these links for more information about this product
Order Chart
Get it here!